Gold coins have always represented the ultimate in wealth and prestige. For collectors, no other metal can match the quality and lustre of coins struck in the finest gold.
The discovery of the main gold reef in 1886 in Johannesburg forever changed the history of South Africa. This beautiful and warm shimmering gold not only captured the imagination of our country but also the world.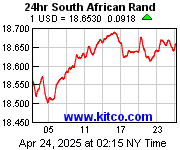 Today, the Krugerrand is the South African brand name that people associate with gold from South Africa. In fact, the Krugerrand is rated as one of the top 300 brands in the world.

The design of the Krugerrand was based on historical coins in South Africa. The obverse depicts the bust of President Paul Kruger who was President of the ZAR (Zuid Afrika Republiek - the previous Transvaal province of South Africa) at the time that the gold was discovered. The design on the reverse depicts a prancing springbok, which is synonymous with South Africa. The Krugerrand is minted in the traditional 22 carat gold and is available in 1 oz, ½ oz, ¼ oz and 1/10 oz coins. The Russian invasion of Afghanistan in 1979 pushed gold to $800 an ounce and the surge in the price prompted the introduction of the fractionals (½, ¼ and 1/10) in 1980 to broaden the level of gold ownership and the forerunner of the Kruger Set.

Over 55 million Krugerrands have been sold to date all over the world. Krugerrands are quoted in dollars and in S.A they have proven to be one of the premiere currency hedges. As the R/ $ exchange rates has depreciated over the years, Krugerrands have reached their highest price of R8800. Together with gold at a 25 year high, Krugerrands have proven to be an outstanding store of value and investment.